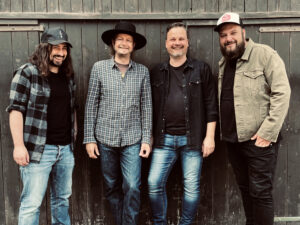 The southeastern United States. Cradle of the blues. The pubs and suits of the 50s are hardly a flurry in the mosquitoesque air. That's exactly what The Big Swamp breathes. The music is earthy, pulsating, original.
Delta blues. Southern Rock. Swamp Rock.
"Sharp Juke Joint Sound from Hildesheim", the editors of "Gitarre & Bass" marveled after the first recordings. The music of The Big Swamp flows through the ear canals like fiery whiskey through the esophagus. The band swims in the same waters as Foghat, R.L. Burnside, Jack White, Wucan, Siena Root or Blackberry Smoke.
Over 2700 music lovers like the group on Facebook. 20.000 clicks count Youtube for "River Mud". The first work of the group, "Sober And Nice", is out of print. The album "Heavy Load" and the subsequent EP "Come Over, Come Home" were mastered in Nashville, Tennessee. TrueEast mastering was responsible. The recordings of all three pieces of silver were made in Achim Sauer's 7V studios. This was followed by a best-of vinyl in a very elegant gatefold sleeve and in mid-2020 the band released 4 songs that were recorded in the old line-up during the so-called corona crisis. The Big Swamp have had a new line-up since mid-2020.
The Big Swamp are no longer an insider tip. The plates of the Swamp Rocker are indispensable part in the record shelf of every blues fan.
Lineup:
Jan Strobel – Vocals, Slideguitar, Harp
Dennis Krastinat – Guitars
wena – Bass
Axel Gertig – Drums